Prologue
---
ScavHunt2016 is a two-week challenge comprising over one hundred cryptic challenges, uniting individuals all over the world to solve challenges, scavenge items and cause absolute mayhem. This Challenge provided by Freelancer.
Benang Merah Komunikasi (as team) joined the challenge and publish the video shoutout at Bandung landmark (Gedung Sate) which is a mark of Bandung (indonesia) itself. In global talent issue this is our step and symbol to the Indonesia's freelancer era to get known around the world. Indonesia will answered @Freelancer @FreelancercoID @FreelancerGB video shoutout challenge, raise Indonesia.
#ScavHunt2016 #RaisingIndonesia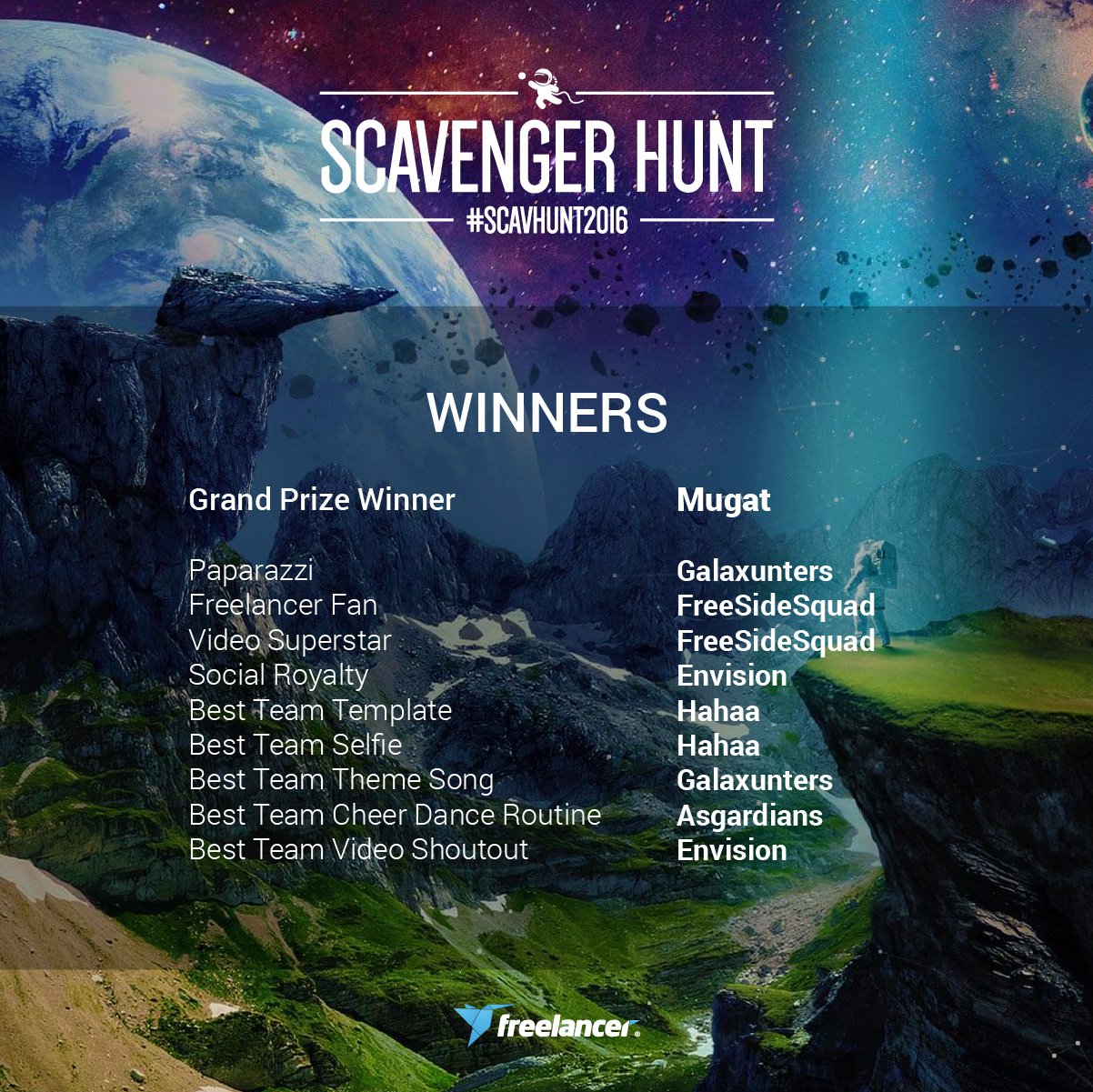 Unlock the Challenges
---
Registration Challenges
You think your team got swagger? Complete your Team Template by adding your team name (and logo).

Selfie time! Upload a photo of your team. Make sure it features your Team Template!

Time to shine brighter than the stars. Perform your team's theme song.

Get the party started! Show us your team's official cheer dance routine.

Give @freelancer #ScavHunt2016 a video shoutout on the Twitterverse.
100+ Cryptic Challenges
Give us your take on more than 100 crazy, cryptic challenges such as honoring your unsung hero or bringing us Superman!
1. The chariot race in Ben-Hur, but with hoverboards.
2. MJ's Thriller in the frozen section of a supermarket. Eating an ice cream. Suddenly a giant monster appears! Thriller eating Vanilla in the Chiller with Godzilla!
3. An original printed annual report for Deutsche Bank, Lehman Brothers and Bear Stearns.
4. Angry birds IRL.
5. All the flags of the electoral states won by Abraham Lincoln in the 1860 presidential election. Yes, all of them.
6. Thirteenth century Florence, when Dante encountered the Furies who threatened to call upon the power of the Medusa. Three centuries later, Caravaggio captures the majestic powers of the Medusa in a painting by the same name. Take your team logo to Firenze and snap a picture of Medusa.
7. Your team logo endorsed by the any of the crew on the International Space Station.
8. Kanye loves Trump.
9. Every minute, somewhere in the world, a bot is being abused. #StopBotViolence. Get an endorsement from Atlas, Petman, Cheetah, BigDog, SandFlea, RHex, RiSE, LittleDog or one of their friends.
10. Jon Bon Jovi. Gangnam style.
11. Make a tiddly wink.
12. Bring me Chuck Norris.
13. A selfie with Kim Kardashian.
14. A counterfeit American Eagle Silver Dollar.
15. A drunken ode to your team by Tyrion Lannister.
16. A Thiel autographed copy of From Zero to One, a Horowitz autographed copy of The Hard Things about Hard Things and a copy of The Lost Unicorn autographed by Mary Smith.
17. An original multi-platinum record award.
18. A Mad Hatter's tea party on public transport. Use your best china!
19. Get internationally renowned graphic designer Joel Wasserman to endorse your team logo.
20. An autographed photo of Sebastian Siseles doing Blue Steel and/or Magnum.
21. A French Franc, a Deutsche Mark and an Italian Lira.
22. Britney's Fantasy. Katy's Purr. Nicky's Minajesty. Design us a bottle of Elon's Musk.
23. Unbreak my <3. Swipe right, then swipe right. Swipe right again… and… swipe right. You will meet your true love. We know because, well maths. The most Tinder matches for your sexy team logo.
24. The biggest nerf gun battle in the world. Humans v Zombies.
25. Hatch the rarest Pokemon egg. A Pokemon so rare, nobody has heard of it. In real life, in the egg section of your local supermarket.
26. A Big Mac in an original styrofoam container.
27. A team snapchat endorsement from DJ Khaled.
28. Find an Olympian. Race them. Beat them. No excuses.
29. Break the Internet with any of your submissions.
30. 50% witty, 50% creative. 100% pure savage. I'm not scared of no roast! Perhaps you should be? /r/RoastMe/ Get roasted.
31. Your team logo with an original Pablo Picasso.
32. A self driving office chair.
33. An original NASA mission patch.
34. A grumpy cat.
35. Beat Kim Dotcom at Modern Warfare. Or any video game for that matter.
36. The tallest jenga stack in the world.
37. A symphony? More cowbell. A choir? More cowbell. A hymn? More cowbell. I got a fever, and the only prescription is more cowbell!
38. It is time to wrestle Sydney back from the claws of corruption and greed. It's time to #KeepSydneyOpen! Take your protests out in the streets and show #CasinoMike Baird that you don't need a nanny anymore. Expose the #KeepSydneyOpen logo. http://www.keepsydneyopen.com/
39. Man the printing presses! A 1998 Belarus 500,000 Rublei Hyperinflation Banknote. A 1993 Brazil 10,000 Cruzeiros Hyperinflation Banknote. A 1990 Peru 1 million Intis Hyperinflation Banknote.
40. A working hyperloop.
41. Hello, as a documentary.
42. Wear a bowler hat, a teaspoon and a rolled newspaper. Consecutively flick a teaspoon over your head and land it in a teacup, throw the newspaper and land it in the bin and throw your hat over your head and land it on a hat stand. Jolly good show old chap! We'll be watching your edits.
43. Instagram's logo looks like a bit like a Lisa Frank sticker. Put a filter on it. Please?
44. Bohemian Rhapsody, Brexit Style.
45. A Erdogan figurine. A Putin figurine. A Trump figurine.
46. A histogram of letter frequency from Shakespeare's collected literary works.
47. A histogram of letter frequency from Francis Bacon's collected literary works.
48. Sell Jordan Belfort a pen. Or sell a pen on Wall Street.
49. Break the ice, kick the bucket, eat a humble pie and butter someone up while giving a cold shoulder.
50. A team endorsement from Taylor Swift.
51. An original Pacman vs Mayweather poster.
52. Throw the best darn foam party that anyone's ever seen.
53. A four-leafed clover.
54. Put on your red shoes and dance. Around the world.
55. Extreme sports is overrated. In 2016, it's all about the Mundane sports. Be an everyday zero, zeros are new heroes. GoPro the most underwhelming stunt in the world.
56. A Toyota's a Toyota? Well yes. I suppose that makes sense does it not. But who has heard of a Santa at NASA? It's time to flip this competition on its head with about your team's Scavenger Hunt.
57. How Game of Thrones ends. In two minutes or less.
58. A postcard from Pyongyang.
59. You call this archaeology? Your best Indy scene, as long as it keeps us on the edge of our seats.
60. Trump Tower, Trump Casino, Trump Board Game, Trump Reality TV Show, Trump ______
61. A lion, a witch and a wardrobe.
62. Re-enact a video game with augmented reality that isn't Pokemon Go.
63. Your greatest rendition of Madness' "Our House"
64. Audition strangers in the street for the position of lead singer of AC DC.
65. Make use of ten (10) original British inventions. I said original.
66. A better Scavenger Hunt question than any from this year's list.
67. We asked for Kevin Mitnick's lockpick business card last hunt, but no-one found it.
68. I am Satoshi! No, I am Satoshi. No, I am Satoshi! Bitcoin Spartacus at a security or fintech event or convention.
69. A better Flight of the Valkyries, this time with drones. Better have a good PA!
70. Remake of your favorite movie in sixty seconds. Keep it short, like our attention spans.
71. A professional clown.
72. 5am. Flight of the Valkyries. Assemble the skate boards, hoverboards & BMX bikes. Make sure you have a pumping PA system and your team logo is highly visible. Smells like.. victory.
73. Original vinyl of any album from The The.
74. The biggest rubber band ball, in the world.
75. Your team logo at the Rio Olympics opening ceremony.
76. Sad Affleck? Sad Jimmy Fallon.
77. The biggest House of Cards. Bigger than the New South Wales Parliament.
78. Yes Boss, Heyy Babyy, Oh Darling! Yeh Hai India! Baadshah of Bollywood under the limelight. Can you match the moves of SRK?
79. Your team in a groufie at any of the 1,048 sites.
80. A Pokemon stampede narrated by David Attenborough.
81. A David Attenborough stampede narrated by Morgan Freeman.
82. A Morgan Freeman Stampede, narrated by Honey Badger.
83. Just… do it. A rant better than Shia.
84. A giant #StartCon2016 flag.
85. Pita Pan or Frying Nemo for dinner tonight? Or perhaps we can head down to Amy's Winehouse for some shots of Tequila Mockingbird? I'll just go grab my laundry from Lord of the Rinse? You really have to take a bow to these genius purveyors. Can you find one better?
86. A raspberry beret.
87. Compete in the ScavHunt 2016 Olympics! We better see the torch and hear the theme song.
88. We love us some Carpool Karaoke.
89. Mythbust another team's answer to this Scavenger Hunt.
90. A team endorsement from three unicorn CEOs. I said three.
91. It suddenly struck me that that tiny pea, pretty and blue, was the Earth. I put up my thumb and shut one eye, and my thumb blotted out the planet Earth. I didn't feel like a giant. I felt very, very small". The biggest team logo of #ScavHunt2016.
92. A banana, marshmallow and cherry pizza.
93. A working Apple II computer. Connect it to the Internet.
94. There ain't no scene like a Sean Bean death scene. From Lord of the Rings to Game of Thrones, the man sure knows how to play dead. But, do you? Channel your inner Bean, and re-enact some of the best death scenes from the reincarnated man himself.
95. Create a language known as "Donald Trump" and sing Kanye West's Famous in it.
96. Identical quadruplets.
97. The PM London Fix Price of Gold on Tuesday, August 9th, the day after #ScavHunt2016 closes.
98. A Freelancer.com billboard.
99. The Secret Life of Pets. Home Edition. WOOF! MEOW!
100. The video we'll play when you win #ScavHunt2016.
Extra Challenges
1. Why submmittit on Scavengerit? Submittit on Reddit!
2. Does Reddit think Kanye loves Trump is /r/funny?
Terms & Conditions of Entry
---
The Freelancer.com Internet Scavenger Hunt 2016 (Competition) will be full of surprises, a lot of fun, cryptic questions and totally epic requests. With thousands of people competing from all over the world, you and your team have the chance to make your mark and potentially prove yourselves to be the best Scavenger Hunters IN THE WORLD – imagine having that on your resume. We're aiming for the biggest crowd yet, so invite all your friends to join in too!
General Terms and Conditions
Entry into the competition is acceptance of all conditions. Entrants are required to abide by the Terms and Conditions as presented here and as updated from time to time.

The Terms and Conditions of this competition are subjected to Australians laws.

The competition is being run by Freelancer International Pty Limited "Freelancer", Level 20, 680 George Street, Sydney, New South Wales 2000.
The Competition
Entry to the competition is open to any registered user of Freelancer.com.

By entering the competition the entrant agrees that they are over the age of 18 years, or if under the age of 18 years, have their parent's or legal guardian's consent to enter the competition.

To enter the competition, the contestants must:

Be registered members of Freelancer.com

Once you have signed up, either create a new team or join an existing team;

Complete as many challenges as possible.

Entry to the competition is free. Entrants will be responsible for any costs associated with entering the competition.

Teams must consist of one (1) to maximum ten (10) people to be eligible to compete.

Teams may consist of people from different countries. You can connect to other people through the main Scavenger Hunt portal. You can only join one team at a time.

Submissions must be made through the web interface at https://www.freelancer.com/scavenger/#questions. Entries we receive through other mechanisms will not be valid.

The Scavenger Hunt registrations will open at 12.00am (Midnight) EDT (New York) on Tuesday, 5 July, 2016, when the organisers will reveal the first five (5) challenges to anyone registered. The full Freelancer.com Internet Scavenger Hunt 2016 list of challenges will be released at 12.00am (Midnight) EDT (New York) on Tuesday, 19 July, 2016. The Scavenger Hunt will close at 12.00am (Midnight) EDT (New York) on Monday, 08 August, 2016.

No late entries will be accepted.

Teams can register at any point during the Registration period, and throughout the Scavenger Hunt period. The organisers will announce the Registration and Scavenger Hunt main prize winners within the two weeks after the Scavenger Hunt closes, with specific prizes being awarded during the duration of the contest.

By entering this competition, entrants give Freelancer a non-exclusive, royalty free transferable license to use any material (including, but not limited to graphics, sound, images, voice, names, nicknames, words and slogans)  submitted as part of this entry for the purposes of conducting and promoting this competition and for the general marketing of Freelancer in all media known or later devised, in perpetuity.

Freelancer is not responsible in any manner whatsoever for any problems or any financial costs incurred, or any combination thereof, including any injury or damage to participant's or any other persons related to or resulting from participation in this competition.

You have carefully read this document and understand that it is a release of liability. Agree to indemnify and hold harmless Freelancer against any and all claims, suits or actions of any kind whatsoever for liability, damages, compensation or otherwise brought by you or anyone on your behalf. Agree to release and discharge Freelancer and all of its affiliates, managers, members, agents, attorneys, staff, volunteers, representatives, predecessors, and successors, from any and all claims or causes of action and you agree to voluntarily give up or waive any right that you have to otherwise bring a legal action against Freelancer for personal injury or property damage.

In the event that you should require medical care or treatment, you agree to be financially responsible for any costs incurred as a result of such treatment. You are aware and understand that you should carry your own health insurance.

Freelancer accepts no responsibility and shall not be held legally liable or responsible for any accident, loss, injury or damage to any individual or property whether direct or indirect, whether in contract, tort, negligence or otherwise arising out of or in connection with the competition or the prize, either during or after the competition.

You are voluntarily participating in the Scavenger Hunt at your own risk. You are aware of the risks associated with traveling to and from as well as participating in this activity, which may include, but are not limited to physical or psychological injury, pain, suffering, illness, disfigurement, permanent disability, economic or emotional loss, and death. You understand these injuries or outcomes may arise from your own or others' negligence, conditions related to travel, or the condition of the Activity location(s). Nonetheless, you assume all related risks, both known or unknown to you, of your participation in this Activity, including travel to, from and during this Activity.

All teams must have their logo and name printed onto the official Freelancer.com Scavenger Hunt 2016 template. The official template will be released at the Registrations stage. All image and video submissions must show the team logo on the official template in the entry. The official template can be downloaded here. Entries that do not comply with this will be regarded as invalid.

All communications with the judges during the Scavenger Hunt must be sent via scavenger-assist@freelancer.com. Questions and answers will be posted on the Freelancer.com Facebook fan page so we are all up-to-date. Questions tweeted, posted or sent through the support desk will not be acknowledged.

All communication with the Freelancer.com team during the Scavenger Hunt must be addressed to scavenger-assist@freelancer.com.

Entries which do not meet the required submission format will be automatically rejected.

Freelancer's decision will be final and no correspondence will be entered into.

Where the competition is communicated on Facebook, entrants acknowledge that the competition is in no way sponsored, endorsed or administered by or associated with Facebook and entrants and participants in the competition release Facebook and its associated companies from all liability arising from the competition. Entrants provide their information to Freelancer and not to Facebook.

Personal information provided by an entrant to Freelancer for the purpose of entering the competition will be collected, used and disclosed in accordance with Freelancer's Privacy Statement. A copy of the privacy statement is available at https://www.freelancer.com/about/privacy. Personal information collected will be kept strictly confidential and will not be sold, reused, rented, loaned or otherwise disclosed to any third party otherwise than in accordance with the Freelancer Privacy Statement and these Terms and Conditions.

By submitting your entry to the Scavenger Hunt you grant Freelancer and its subsidiaries a worldwide, royalty-free exclusive license to use, modify, reproduce, distribute, transmit, publish, and publicly and privately display the entry including any modifications in any media, for commercial purposes, such as promoting Freelancer and its products, services and projects. These rights may be exercised by third parties authorised by Freelancer. You understand that you will not be paid in connection with any exercise of these rights.

Freelancer.com reserves the right to display all entries submitted. All entries submitted for the competition will remain the property of Freelancer.com and will not be returned to the participants. We are not liable in any manner for entries lost, delayed, damaged or stolen by pirates. Nor for any of the actions of your team.

Freelancer.com reserves the right to modify these Rules at any time, at its sole discretion without the need of giving any prior notice to participants.
Content
All video submissions are to be uploaded to YouTube as a public video (tagged as #Freelancer #ScavHunt2016), and linked in the challenge entry form. Image uploads are made directly on the form, or alternatively must be taken using Instagram (#ScavHunt2016) and the URL uploaded. Freelancer may use all photos, images and videos submitted as part of the Scavenger Hunt for marketing, communications, public relations, and/or promotional purposes.

All forms of content, including images and videos submitted to the competition must not be illegal. All content must not be fraudulent, sexist, racist, discriminatory, misleading or deceptive, defamatory, obscene or offensive, inappropriate for people under the age of 18, off-topic, or negatively impact on the Freelancer brand and Freelancer reputation (as determined by Freelancer). Do not post, link or otherwise communicate or distribute material of any kind that brings Freelancer into disrepute.  Entries that breach the listed entry restrictions above may be deemed invalid, at Freelancer's sole and absolute discretion. Furthermore, all forms of content must not infringe or damage third party's brand, rights, reputation, name, logos and sites. Do not impersonate or falsely claim to represent another person or organisation.

Guidelines for video submissions:

All video submissions should be shot in 16:9 aspect ratio. Please keep in mind we prioritise quality over quantity!

Size: 640×480 minimum, (preferably 720p minimum)

Encoding: MPEG 4, H/264, XVID, Quicktime

Video: 400 kb/s minimum

Audio encoding: MP3

Audio: 64 kb/s minimum

Winners may be asked to further provide the original audio and video files used during production of the entry for broadcast purposes. This may include uncompressed QuickTime files, final audio mix and/or separate audio tracks for dialogue, music, and effects.
Winning and prizes
There will be $30,000.00 USD in prizes to be divided as follows:

Grand Prize: Team with most points — $15,000 USD

Registration Challenges: Total value — $3,000 USD

Paparazzi: Best Celebrity Endorsement — $5,000 USD

Freelancer Fan: Best promotion of Freelancer.com — $3,000 USD

Video Superstar: The most creative and best quality video entry — USD $2,000

Media Geek: Entry that gets most publicity in the mainstream media — $1,000 USD

Social Royalty: Go viral on social media, including Reddit, Instagram, Snapchat, Twitter or Facebook using our hashtag #ScavHunt2016 — USD $1,000

Freelancer will select the prize winners within the two weeks after the competition closes.

The entries will be judged against predetermined criteria for each task. Winners will be announced on our Facebook Page and teams will be notified individually.

Points for the prizes will be awarded based upon your originality of submission, efforts and how well you meet the criteria outlined in the challenge.

Prize funds will be paid out to the winners through Freelancer.com, and will be equally split between the number of members in each winning group. Thus, participants must have a valid Freelancer.com account to participate in the contest. Entry deadlines may be extended at the discretion of the organisers. The organisers reserve the right not to award a specific prize category at its own discretion if the entries are deemed inappropriate or of poor quality.

All decisions made by the judges are final. Arguing with the judges over submissions may result in making them really angry, and you might be disqualified.

The prize winners will be contacted within two weeks of them being selected, by the email address supplied by the entrant on the competition registration form.

If the prize winner does not respond to claim the prize within twenty-one (21) days of them being selected, a new prize winner will be selected within thirty (30) days.

The prize winner, or if under the age of 18 years their parent or legal guardian, must provide photographic ID, birth certificate or current passport when collecting the prize.

The prize winner's name, group name, or other identifying information may be published on the Freelancer website and on the official Freelancer Facebook, Twitter, Google+ and Instagram accounts. By entering the competition, entrants grant Freelancer permission to use their full name and suburb on its website and Facebook, Twitter, Google+ and Instagram accounts from the date of the selection.
Social media
We encourage you to promote, tweet, Facebook post, Snapchat, Reddit, Instagram and other forms of social media about all the challenges you have completed. You may tag Freelancer along the way to share your story at #ScavHunt2016 and also #Freelancer (@Freelancer).
International Use
Freelancer Scavenger Hunt is offered and available for use in all locations. You are authorised to access the website from any location apart from any locations that would be deemed illegal to do so.